This policy can also be downloaded here: PDF
First Aid and Accidents Policy
First Aid and Accidents
Leaders follow The Scout Association guidelines concerning first aid and accidents. Leaders complete basic first aid training and will administer first aid to the best of their ability.  Medical assistance will be sought if appropriate.
The persons responsible for first aid assessment are: Section Leaders
First Aid Kit
First aid kits are available at Nyamba and portable kits are available for outings and camps.
Consent Forms
Parents / guardians are asked to sign a consent form authorising leaders to administer medicines / emergency first aid. These will be issued by Section Leaders as necessary.
Reporting and Recording Accidents
Accidents which occur during and when travelling to / from a scouting activity should be reported and recorded.
Only brief details of accidents and any treatment given is maintained; a confidential record is made as soon as possible after an incident to minimise the possibility of information and details being forgotten. Parents will be notified. The record is held by the Group Secretary and in certain circumstances, the accident may also be reported to Scout Association Headquarters, in accordance with Scout Association factsheet FS120079 (available to download below). As a general rule minor injuries dealt with by first aid need not be reported. Where intervention is sought from a health professional then a report must be made to The Scout Information Centre following documented procedures. Always inform Group Scout Leader as soon as possible.
Reference
'The Purple Card' (Safe Scouting and what to do in an emergency) which can be down loaded HERE.
Scout Association Fact Sheets:
Additional guidance for Leaders
First Aid Kits
First Aid kits are in place at Nyamba (on the wall) and portable ones available for outings and camps – to be kept (and RETURNED) in the steel cupboard in main stores.
Guidance on Recording Accidents
The Accident Reporting Book is kept on top on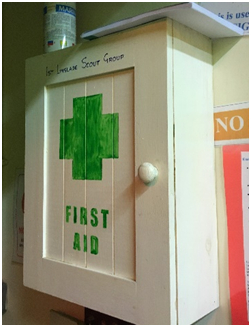 the first aid cupboard in the kitchen.
One page should be completed per accident – the information is straightforward and there are prompts to guide you.
If the accident occurs at a camp or outing, the page should be completed as soon as you can when you return.
Inform parents / carers but there is no need to give them a copy of the page as this is for our records.
After completing, please remove the page (to comply with the Data Protection Act) and hand to the GSL at the earliest opportunity.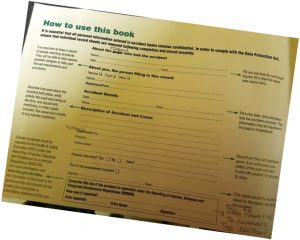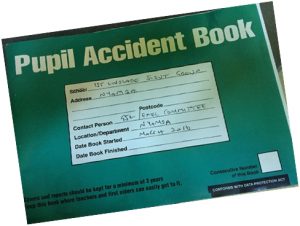 Photographs
If it is necessary to photograph any injuries / accident / incident then photographs, digital or otherwise MUST be kept confidential until reviewed by the GSL and /or Executive Committee. On no account should they be shared on social media / email / text. All Adults, Occasional Helpers (and anyone else present), should be asked not to take photographs in these circumstances unless requested to do so by the Leader in charge.
More guidance
Refer also to 'The Purple Card' (Safe Scouting and what to do in an emergency) which can be down loaded HERE.
The Scout Association Factsheets:
http://members.scouts.org.uk/factsheets/FS120079.pdf
http://members.scouts.org.uk/supportresources/1198/rule-72-emergency-procedures?moduleID=10
http://members.scouts.org.uk/supportresources/1201/rule-74-accident-reporting
http://members.scouts.org.uk/newsandviews/module/31/661/safe-camping-happy-camping