Congratulations to six 1st Linslade Scouts who were presented with their Chief Scouts Gold Award at the Leighton-Linslade District St Georges Day Service at All Saints Church, on Tuesday evening. There were also Chief Scouts Silver Awards presented to nine Linslade Cub Scouts, and Chief Scouts Bronze Awards presented to twelve Linslade Beaver Scouts. Two Explorer Scouts were awarded their Young Leader Buckle for leadership work in our Group. WELL DONE TO ALL!!!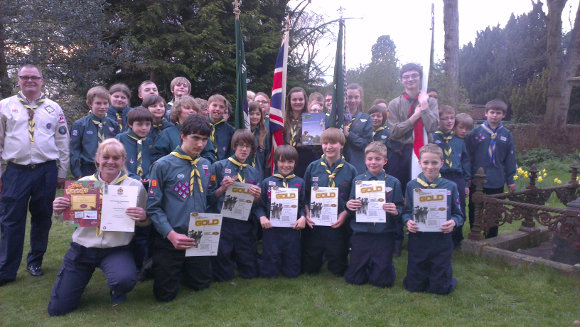 A fantastic turnout of 32 Scouts from Linslade attended the service, joining great numbers of both Beavers and Cubs from our Group. Thank you all for coming.
The Gold Awards were presented by District Commissioner Andy Goddon, along with over 70 awards to young people in the District. Well done to Thomas J, Finn H, Daniel B, Philip S, Chris H, and Kieran H. The Gold Award is the highest award in the Scout section, and involves gaining 8 other Challenge Awards, including adventure expeditions, community projects, personal fitness, global awareness, creative activities and many other character building and self reliance life skills. They have worked very hard over the last few years and deserve the recognition. All leaders are very proud.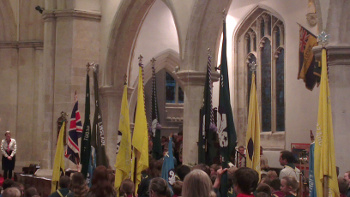 Congratulations also go to Lindsay Briggs, and Lheyton Warby who received Chief Scouts commendations for 5 years service to Scouting. Thank you both for your continued support.